Get exclusive discounts on Artworks
"Explore exclusive discounts on our art collections - Shop now and save with ORIAVI's limited-time offers!"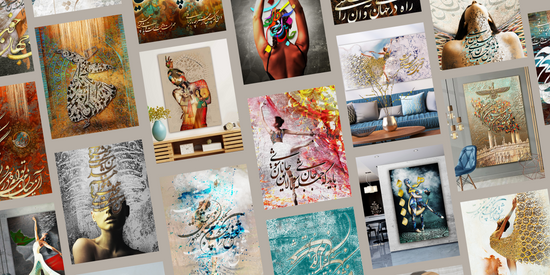 Cookie Policy
What about cookies?
We use cookies when you visit our site. There are four main types of cookies – here's how and why we use them.
(1) Site functionality cookies – these cookies allow you to navigate the site and use our features, such as "Add to Cart" 
(2) Site analytics cookies – these cookies allow us to measure and analyse how our customers use the site, to improve both its functionality and your shopping experience.
(3) Customer preference cookies – when you are browsing or shopping on iwantzone, these cookies will remember your preferences (like your language or location), so we can make your shopping experience as seamless as possible, and more personal to you.
(4) Targeting or advertising cookies – these cookies are used to deliver ads relevant to you. They also limit the number of times that you see an ad and help us measure the effectiveness of our marketing campaigns.
By using our site, you agree to us placing these sorts of cookies on your device and accessing them when you visit the site in the future. If you want to delete any cookies that are already on your computer, the "help" section in your browser should provide instructions on how to locate the file or directory that stores cookies. Further information about cookies can be found at . Please note that by deleting or disabling future cookies, your user experience may be affected and you might not be able to take advantage of certain functions of our site, and the complete iwantzone user experience that we pride ourselves on providing our customers."
What is your return policy?
ORIAVI offers a 100% Love Guarantee!
You will LOVE your art, or we will take it back! We are happy to accept return or exchange requests for any reason in the first 60 days of purchase!
If you would like to return or exchange your order or if there is an issue with the print you received, please email us at service@oriavi.com order number and the product you would like to return or exchange.  
We will process your refund or exchange order once your return has been received.
My order was damaged in transit!
No worries. You will definitely get a replacement from us.
We make great effort to ensure that your order arrives to you safe and sound. We also understand that sometimes, things happen in transit. While this can be frustrating, please be assured that we are here to help!
Do I qualify for free return shipping?
Free return shipping is for all orders, excludes Oversized Prints.
Oversized Prints Free Return ExclusionsThe following sizes are not eligible for free return shipping:One pieceCanvases: 30"X20", 36"X24", 48"X32", 24"X24", 40"X40"Three-piece36"x24", 48"x32", 54"x36"
What is your cancellation policy?
You can request to cancel your order within 24 hours after request.
When will I be refunded for my return?
Your refund will be processed once your return has been received.