Get exclusive discounts on Artworks
"Explore exclusive discounts on our art collections - Shop now and save with ORIAVI's limited-time offers!"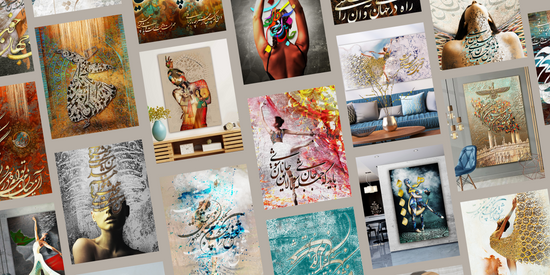 FAQ
Where is you located?
We are an iranian e-commerce store that ships our products worldwide. Our headquarters is located in Wiesbaden, Germany. We do not have a physical store.

Where do you ship from?
Products are manufactured by our facility in the USA, Canada, United Kingdom, Europe and Australia. We ship the items from the nearest facility to your address.

Do you ship to my country?
We ship our packages worldwide. Shipping times varies based on where you are located.

I forgot to apply a discount code, what can I do?
Please contact us at service@oriavi.com, we can issue a refund to you for the discount amount.

How long does order processing and shipping take?
6-12 business days
Shipping times are approximate and is dependent on your location and your postal office. Once the packages reaches your country, your local postal office is responsible for delivering your package. If you have any issues with your shipment after your package reaches your country, please contact your local postal office for inquiries.
What is the size of the artwork?
The size of each artwork is listed in the description and options of each article.
Note that the standard size of canvases is in inches, and when you convert them to centimeters, they do not exactly match the sizes in centimeters on the website (sizes are about one to two centimeters larger).
What shipping methods do you use?
Depending on the product we use either USPS, Fedex, DHL, UPS Mail Innovations, UPS Ground or Ascendia.
We will send you your order tracking number via email.

Can you tell me the shipping rate on my order?
Shipping rates vary by your location and the size of your order.
The easiest way to find out the exact shipping rate for your location and order is to go through the process of placing an order. When you reach the checkout page, you will see a drop down menu with different shipping options and their costs for your exact location and order.
Can I cancel my order?
Yes, if you regret your order for any reason, you can cancel it within 24 hours.

Can I change my address?
If you would like to change your shipping address, please email us at service@oriavi.com immediately after you have purchased your product. We will email you within 24 hours to confirm the change in your address. We cannot change your address once it is in transit. Please contact your local postal office to have your mail forwarded to you.

My order was damaged in transit! What can i do?
No worries. You will definitely get a replacement from us.
We make great effort to ensure that your order arrives to you safe and sound. We also understand that sometimes, things happen in transit. While this can be frustrating, please be assured that we are here to help!

What happens if something goes wrong?
We fix it.
Our customer team are on hand every day to make sure everything runs smoothly for your orders.
We are always an email away, so you can rest easy knowing ORIAVI has your best interest at heart.

What are my payment options?
We accept Visa, Mastercard, American Express & Paypal.

Is your website secure?
The security of personal information is a high priority for us. We maintain administrative, technical and physical safeguards to protect against unauthorized disclosure, use, alteration and destruction of the personal information in our possession. Any information you transmit on oriavi.com is processed by an industry-standard data encryption system called Secure Socket Layer (SSL).

Do I get an order confirmation?
Upon placing an order with The ORIAVI, you will be sent a confirmation email immediately after your order has been successfully submitted. We will also send you a confirmation email providing tracking information once your order has shipped. If you don't receive an email confirmation, check your 'bulk' or 'junk' folder and it should be there. Please contact us if you have any questions.
How do I return my package?
If you would like to return your package, please contact our customer service team at service@oriavi.com. Our team will provide you further instructions for returning your order.
We will send you a refund within 3-5 business days of receiving and inspecting it. As per our Refund Policy we do not pay for return shipping.

Which orders can't be returned?
The following items can't be returned or exchanged:
Because of the nature of these items, unless they arrive damaged or defective, We can't accept returns for:
Custom or personalized orders
Digital downloads
Items on sale

I have a question that isn't answered here, how can I contact you?
Of course! Just send an email to Customer Service.