Get exclusive discounts on Artworks
"Explore exclusive discounts on our art collections - Shop now and save with ORIAVI's limited-time offers!"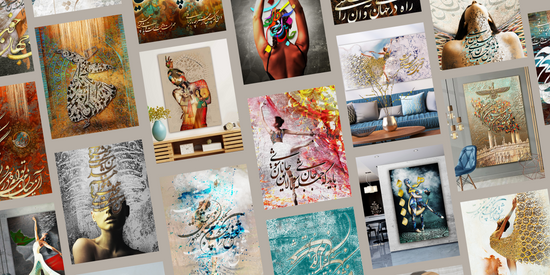 Privacy Policy
Last Updated: 01/12/2019
Welcome to ORIAVI.  ORIAVI, Inc. ("ORIAVI," "we," "us" and/or "our") supplies high-quality printed art reproductions. This Privacy Policy describes how your personal information is collected, used, and shared when you visit our website at https://www.ORIAVI.com (the "Site"), any sub-domains of the Site, and various online tools and services (collectively, the "Service").   
BY USING THE SITE OR SERVICES, YOU ARE HEREBY CONSENTING TO OUR COLLECTION, USE, DISCLOSURE, TRANSFER AND STORAGE OF INFORMATION IN ACCORDANCE WITH THIS PRIVACY POLICY.
Our Commitment To You
At ORIAVI, we value and respect your privacy. Privacy considerations are at the core of the way we design and build services for you so that you can fully trust ORIAVI and take advantage of everything the Service offers.  We do not compromise when it comes to your privacy, we seek to be transparent with you in the way we process and manage your personal information, and we work hard to protect your information and keep it secure.  This Privacy Policy sets forth how we go about accomplishing our privacy initiatives, and provides you with the information you need to be comfortable that your data is being handled with care.
We encourage you to read this Privacy Policy carefully.  If you have any questions, please don't hesitate to contact ORIAVI directly using the contact information provided below.
What personal information do we collect from our users?
Automatically Collected Information. When you visit the Site or Service, we automatically collect certain information about your device, including information about your web browser, mobile device, IP address, the URL of the previous web site you visited, your ISP, operating system and other technical information. We may also collect information about how your device has interacted with our Website, including the pages accessed and links clicked (collectively, "Device Information").
Additionally, as you browse the Service, we collect information about how you use the Service, such as the date and time you logged in, the individual web pages or products that you view, what websites or search terms referred you to the Service, and information about how you interact with the Service and other users (collectively, "Usage Information").
Information You Provide. Additionally, when you visit the Service, we may either require or collect "Personal Information."  Personal Information is information that could personally identify you, for example, your name, address, phone number, e-mail address, birth date, employer, and requested payment information.  Personal Information does not include any data where the identity has been removed (anonymous data).  For purposes of this policy, your Device Information and Usage Information is included within the discussion of "Personal Information" (unless we clearly state otherwise herein). 
In the following instances, we collect and require you to actively submit Personal Information:
-        When subscribing to our Email Newsletter
-        When creating an account with ORIAVI
-        When placing an order with ORIAVI
-        When participating in any ORIAVI-run contests or giveaways if mandated by the rules of the promotion
-        When applying for the ORIAVI Scholarship
User-Generated Content. User-Generated Content is content produced for social media or other digital channels that mentions tags, hashtags, or links to ORIAVI, or features ORIAVI product. All User-Generated Content is subject to consideration by ORIAVI as potential marketing material.
Information We Receive or Collect from Other Third Parties or Public Sources
Internet Advertising. We may use third-party service providers to process our information and serve ads on our behalf across the Internet and sometimes on the Website. They may collect anonymous information about your visits to our Website, and your interaction with our products and services. They may also use information about your visits to this and other websites to target advertisements for goods and services.
We may receive or collect information about you from third parties and store it on our servers with other information we may have already received or collected from you, such as publicly available information you provided third-party platforms.  ORIAVI is not responsible for and will assume no liability, if a business partner or other entity whom you have authorized collects, uses or shares any information about you in violation of its own privacy policy or any applicable laws, rules, or regulations.
Cookies and Similar Technologies
We use Cookies and similar technologies to enable our systems to recognize your browser/device and to provide certain features.  We also collect some Device Information and Usage Information using such technologies.
Cookies. "Cookies" are data files that are placed on your device or computer and often include an anonymous unique identifier. A cookie may enable the website owner to track how a visitor navigates through its website and the areas in which they show interest. This is similar to a traffic report: it tracks trends and behaviors but does not identify individuals. Information gathered may include date and time of visits, pages viewed, time spent at the site, and the website visited just before and just after a visit to our Service. Cookies can be set to expire: (1) on a specified date; (2) after a specific period of time; (3) when a transaction has been completed; or (4) when a user turns off his/her Internet browser.  A cookie that is erased from memory when a visitor's Internet browser closes is called a "session" cookie.  Cookies that expire based on a time set by the Web server are called "persistent" cookies.
Our Service may use both "session cookies" and "persistent cookies". Most people do not know that cookies are being placed on their computers when they visit our Service or most websites because browsers are typically set to accept cookies.  For more information about cookies, and how to disable cookies, visit http://www.allaboutcookies.org.
Our Service uses anonymous cookies to track information on your browsing history on the Services. We also use third-party advertising networks, such as Google AdSense and AdRoll, to serve ads to you on Our behalf on other sites throughout the Internet. For more information or to opt-out of this type of advertising, please visit AdRoll's and Google AdSense's privacy policies.
"Log files" track actions occurring on the Service, and collect data including your IP address, browser type, Internet service provider, referring/exit pages, and date/time stamps.
Pixel Tags. We may use "pixel tags," also known as "web beacons," which are small graphic files that allow us to monitor the use of the Website. A pixel tag is a type of technology placed on a website or within the body of an email for the purpose of tracking activity on websites, or when emails are opened or accessed, and is often used in combination with cookies.
Google Analytics. We also collect or receive various Usage Information and Device Information from third-party analytics providers, such as Google Analytics, as well as from other advertising networks. ORIAVI.com uses Google Analytics to track website visitor activity. ORIAVI.com uses user ID tracking in Google Analytics. User ID's are anonymous. We do not share any data that allows Google or any other company to personally identify an individual (by name, Social Security Number, email address, or any similar data), or data that permanently identifies a particular device (such as a unique device identifier if such an identifier cannot be reset). To learn about Google's privacy practices, Click Here. You can opt-out of having your information used by Google Analytics. To access and use the Google Analytics Opt-out Browser Add-on, Click Here.
You have a variety of tools available to control the data collected by cookies, web beacons, and similar technologies. For example, you can use controls in your Internet browser to limit how the websites you visit are able to use cookies and to withdraw your consent by clearing or blocking certain non-strictly necessary cookies. Note that if you disable cookies, there may be parts of our Service that may not function properly.
How do we use the information we collect?
We use your Device Information and Usage Information to monitor the usage of our Service, assess its performance, ensure technological compatibility with your computer or mobile device, and understand the relative importance of the information provided on our Service.  We may also use this data to conduct statistical analyses on visitors' usage patterns and other aggregated data.  We do this to improve and optimize our Service for you.  We also use your Device Information and Usage Information to help us screen for potential risk and fraud (in particular, your IP address). Each of these uses is an essential part of making the website accessible and functioning properly, and therefore serves a legitimate interest of the company.
We use the Personal Information you provide us in order to perform basic business functions.  Our use of this Personal Information is most commonly based on our legitimate business purposes or other lawful bases set forth below.  When we make a decision to use your information for our legitimate interests, we make sure to consider and balance any potential impact on you (both positive and negative) to ensure that our rights or interests do not override your fundamental rights and interests.  
As referenced above, we may use your Personal Information for legitimate business purposes or other lawful bases, including to:
Provide, operate, optimize and maintain the Website and our products and services;
Process, fulfill and provide updates on orders;
Where it is in accordance with your preferences send you marketing communications we think you'll find valuable;
Provide customer support, deal with your online inquiries and requests, and to provide you with information and access to resources or services that you have requested from us;
To improve our ability to serve you relevant ads across the Internet for products that will be more interesting to you, we may provide your personal information to our advertising agents that use your information solely for our advertising purposes. You may, from time to time, receive information (including by email or postal mail) from us about new features, new services and special offers we think you'll find valuable;
Identify any server problems or other IT or network issues;
Compile aggregated statistics about customer traffic patterns and site usage to better understand the preferences of our visitors; and
Carry out other legitimate business purposes, such as to improve our products and services, as well as other lawful purposes about which we will notify our users and clients.
Comply with legal requirements, judicial process, and company policies.
Note that we may process your Personal Information for more than one lawful ground depending on the specific purpose for which we are using your data. Please contact us if you need details about the specific legal ground we are relying on to process your personal data.
How do we share the information we collect?
We do not rent or sell your Personal Information without your permission.  However, with your consent we may share your Personal Information with others for the purposes described below:
Disclosure to Third Party Service Providers and Online Partners. With your consent, we may contract with various third parties who help provide the products and services you have requested or purchased and to monitor, evaluate, and improve our business and the products and services we provide. The following categories of vendors may process our data:
Email Service Providers
Credit Card Processing Companies
Cloud Storage Providers
Tax Collection Software
Enterprise Resource Planning (ERP) Software
Customer Support Software
Disclosure of Non-Personal Information. We may disclose your de-identified information, in aggregate form, to potential strategic partners, advertisers, investors, customers, and others. This information will not include your name, phone number, address or any other information that could identify you.
Disclosure to Successors. If we sell our business, we may transfer or sell your Personal Information to the new owner. In such a case, unless permitted otherwise by applicable law, your information would remain subject to promises made in the applicable privacy policy unless you agree differently.
Internet Advertising. we may share your information with third-party service providers to serve ads on our behalf across the internet and sometimes on the Website. They may collect anonymous information about your visits to our Website, and your interaction with our products and services. They may also use information about your visits to this and other websites to target advertisements for goods and services;
International Data Transfers
ORIAVI operates in the United States. In order to provide our Website and Services we may transfer and process your data anywhere in the world where we, or our affiliates, maintain data processing operations. We ensure that your personal information is adequately protected at all times.
If you are based in the European Economic Area (EEA), we will transfer your personal information outside of the EEA where necessary to provide our Website and Services.
Aggregated Data
We may aggregate and/or de-identify any Personal Information, Usage Information or Device Information that you provide or we collect, such that the information no longer identifies any specific individual.  We may use, disclose and otherwise process such information for our own legitimate business purposes – including historical and statistical analysis, marketing, and business planning – without restriction.  However, if we combine or connect any aggregated data with your personal data so that it can directly or indirectly identify you, we treat this combined data as Personal Information which will be used in accordance with this privacy notice.
Communications
General. When you provide us consent to do so, we will communicate with you through general marketing communications via email.  You must affirmatively opt-in to receive these communications before you receive them. 
Third-party Marketing. We will get your express opt-in consent before we share your Personal Information with any company outside ORIAVI or other third parties referenced herein who are processing data on behalf of ORIAVI.
Opting Out
Regardless of where you live, you may also opt-out of these marketing communications at any time by following the instructions provided in any marketing communication you receive. Please note that even if you opt-out of receiving marketing communications, you may still receive-business related communications, such as transactional emails. 
Do Not Track
Please note that we do not alter our Service's data collection and use practices when we see a Do Not Track signal from your browser.
Access to and Managing Your Information; Opt-Out 
We believe it is important for you to be able to: (1) find out what Personal Information you have provided to us through our Services; (2) update your information; or (3) "opt-out" of receiving future marketing communications.  To inquire about your Personal Information, update your Personal Information, or "opt-out" of receiving future marketing communications or any other collection or use practice based on your consent, please send an email with your request to service@oriavi.com. Please include your complete name, e-mail address and mailing address. Note that it may take up to three business days to remove you from our marketing lists and after this point, you may still receive customer service-related communications from us.
Your Rights to the Personal Information You Provide
Pursuant to the General Data Protection Regulation (the "GDPR") put in place by the European Union, individual users within the EU have greater rights with respect to their personal data. You, therefore, have the right to access and control the Personal Information you provide us.  These rights include the right to:
Access your Personal Information;
Correct, update, or delete your Personal Information;
Withdraw or limit your consent (to Personal Information that was provided based on consent);
Data portability of certain Personal Information;
Object to us processing your Personal Information for reasons such as direct marketing purposes and for scientific or historical research or statistical purposes;
Not be subject to automated decision-making, which includes profiling, where such decision-making could have a legal, or similarly significant, effect on you from being made solely based on automated processes.
Complain to a data protection authority regarding the collection and use of personal information. Contact details for data protection authorities in the EEA, Switzerland, and certain non-European countries (including the US and Canada) are available here: https://ec.europa.eu/justice/article-29/structure/data-protection-authorities/index_en.htm
If you would like to exercise these rights (which you may do at any time) or inquire as to any additional rights you may have under applicable law, please contact us through the contact information provided below.  We will respond to any request as promptly as possible.
Personal Information Transfer and Storage 
Please note that your Personal Information will be transferred outside of Europe, including to the United States, where it is stored.  When we transfer your information to the U.S., we will protect it as described in this Privacy Policy.  Through your use of the Service, you consent to the processing and storage of your Personal Information in this manner.   We also are working to incorporate appropriate safeguards such as standard contractual clauses with any third party processors identified herein.  We further will make best efforts to protect information from EU residents in accordance with applicable law.
When you provide information to us, you understand and agree that ORIAVI will retain your Personal Information only as long as is necessary and relevant for our operations, and in accordance with applicable laws or required by contractual obligations. Your Personal Information will be stored for only as long as it is necessary for the purposes described above, or until you withdraw your consent if the Personal Information was being processed based on your consent. As discussed above, you may also contact us to request that your Personal Information be deleted. Most Personal Information will be stored for as long as you maintain you have an account with ORIAVI. When we have no ongoing legitimate business need to process your personal information, we will either delete or anonymize it or, if this is not possible (for example, because your personal information has been stored in backup archives), then we will securely store your personal information and isolate it from any further processing until deletion is possible.
How We Protect Your Information
We strive to maintain internal controls and procedures to ensure that the information you share with us is handled in a safe, secure and responsible manner.  We have implemented the appropriate technological and organizational measures necessary to help protect against the loss, unauthorized access and alteration of the information in our control.  We will only disclose such information to employees and authorized service providers who require such information for the purposes described in this Policy.  Our databases are protected by physical, technical, and procedural measures that restrict access to authorized persons in accordance with this Policy.  Although no data transmission over the Internet can be guaranteed 100% secure, and we cannot ensure against any loss, misuse, unauthorized disclosure, alteration, or destruction of data, we take reasonable precautions to prevent such unfortunate occurrences.  Nevertheless, we cannot and do not guarantee that information you post on or transmit to the Service will not be viewed by unauthorized persons.
Third-Party Service Providers and Third-Party Links
Any third parties to whom we may disclose Personal Information (identified herein) have their own privacy policies which describe how they use and disclose your Personal Information. Those policies will govern use, handling and disclosure of your personal information once we have shared it with those third parties as described in this Privacy Policy. ORIAVI has no responsibility or liability for the activities of these third parties.  If you want to learn more about their privacy practices, we encourage you to visit the websites of those third parties.
When you click on links on our Service that take you to third-party websites, you will be subject to the third parties' privacy policies.  While we support the protection of privacy on the Internet, we cannot be responsible for the actions of any third-party websites.  We encourage you to read the posted privacy policies of any and every website you visit, whether you are linking from our Service or browsing on your own.
California Privacy Rights
Under California's "Shine the Light Law," California residents have the right to receive information that identifies any third-party companies or individuals that ORIAVI has shared their Personal Information within the previous calendar year, as well as a description of the categories of Personal Information, disclosed to that third party. You may obtain this information once a year and free of charge by contacting ORIAVI at service@oriavi.com
Personal Information About Children
Our Service is targeted for use by adults only.  Accordingly, we do not knowingly collect age identifying information, nor do we knowingly collect any personal information from children under the age of 16 years.  However, we hereby advise all visitors to our site under the age of 16 not to disclose or provide any personally identifiable information on our Service.  If you are concerned that Personal Information may have been inadvertently provided to or collected by ORIAVI, please contact us immediately so appropriate steps may be taken to remove such information from ORIAVI's database.
Changes to this Policy
We may update this Privacy Policy from time to time in order to reflect, for example, changes to our practices or for other operational, legal or regulatory reasons.  We suggest that you review the current Privacy Policy at the start of each visit to our Service.  Unless we clearly express otherwise, we will use Personal Information in accordance with the Privacy Policy then in effect.  YOU ARE HEREBY ADVISED THAT YOUR CONTINUED USE OF OUR SERVICE CONSTITUTES YOUR ACCEPTANCE OF ANY AMENDMENTS TO AND THE MOST RECENT VERSION OF THIS PRIVACY POLICY.
Suspected Violations
If at any time you believe we have not adhered to the policies and principles set forth in this Privacy Policy, please notify us using the contact information provided below.  We will make all commercially reasonable efforts to promptly respond to your concerns. If we are unable to resolve your issue, you have the right to bring a complaint to the relevant data protection authority having the power to enforce the GDPR.
Contact Us
If you have any privacy-related questions, concerns or requests, please contact us at service@oriavi.com.
Please include your full name, email address, and mailing address. Note that it may take up to three business days to remove you from our marketing lists and after this point, you may still receive customer service-related communications from us.
Privacy Policy © 2021 ORIAVI.