Get exclusive discounts on Artworks
"Explore exclusive discounts on our art collections - Shop now and save with ORIAVI's limited-time offers!"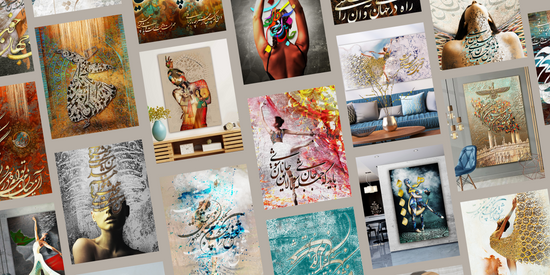 Payment Checkout Security Information
ACCEPTED PAYMENT TYPES
All ORIAVI payment gateways are 100% SSL Certified, not only at checkout stage but throughout our entire website, meaning that you can enjoy browsing all of our website in full, with the confidence of site-wide SSL privacy the entire time.
Our secure online checkout system accepts payments from:
 Visa®
 MasterCard®
 PayPal®
 American Express®
 Google Pay®
 Discovery® (using PayPal)
WHAT IS 'SSL CERTIFICATION'?
SSL Certificates are small data files that digitally bind a cryptographic key to an organization's details. When installed on a web-server, it activates both the 'padlock' and the 'https://' protocol in the address bar at the top of the browser. This, in turn, enables secure connections from a web-server to a browser. Typically, SSL is used to secure payment transactions, data transfer, and logins, and more recently it has becoming the norm to have SSL site-wide.
 ORIAVIs website is 100% SSL Certified, not only at checkout stage but throughout our entire website, meaning that you can enjoy browsing all our web-stores in full the confidence of site-wide SSL privacy the entire time.
WHAT IS 'PCI DSS COMPLIANCE'?
The Payment Card Industry Data Security Standard (PCI DSS) is an information security standard for organizations that handle Credit Card and Debit Card information. Defined by the Payment Card Industry Security Standards Council, the standard was created to increase controls around payment card data to reduce card fraud via its exposure. If you want to sell online, and accept payments from MasterCard®  Visa® cards, or American Express® your checkout system needs to be PCI compliant.
There are six categories of PCI standards that must be met in order for a merchant to be deemed compliant:
Maintain a Secure Network
Protect Cardholder Data
Maintain a Vulnerability Management Program
Implement Strong Access Control Measures
Regularly Monitor and Test Networks
Maintain an Information Security Policy
Our checkout system meets all the above standards and is certified Level 1 PCI DSS compliant allowing greater than 6M Mastercard or Visa transactions annually.
HOW SECURE IS PAYPAL?
We also offer PayPal as a second option, with its fast and secure service it allows you to use PayPal's secure and encrypted connection, just like any of our credit card transactions Paypal is also extremely secure.
When buyers pay with PayPal on any website, PayPal Buyer Protection covers them in case there is a problem. If an item doesn't arrive or is significantly not as described, Paypal will help buyers get a full refund. 
HOW SECURE IS ORIAVI.COM?
Due to the way in which PayPal and our credit card payments (Shopify Payments®/stripe®) works,we at ORIAVI never handle your card details in person, hence we never at any point see your card number, expiry date or 3 digit security code. We simply receive an order with all the details we require to complete your order i.e. name, address, contact info and details of the actual products ordered.
Safe shopping is a vital factor for the success of any online business, which is why we guarantee that our checkout and payment gateway meets all the most up-to-date and advanced payment security standards required for online retail.
Note:
A foreign transaction fee, or international transaction fee, is a 2-4% surcharge that roughly 90% of credit cards tack onto transactions processed outside of the United States.  In other words, they're in play both when you're traveling abroad and when you're conducting business with internationally based merchants.
These fees are charged by banks and credit card providers and our company is not interested in this.